GENRES:
Fiction
AUDIENCE:
Adults, older teens; sexual situations, voyeurism, nudity
SYNOPSIS:
Ko Higaonna is a college student. His girlfriend, Satomi, is studying English so she can be a translator. Ko very much wants to have sex with Satomi but is holding back [not sure why]. After they talk at a popular "lover's lane" spot, Satomi drives off to her interpreter class, and Ko gets into his own car--where he sees a young man, Takuro Maniah, wearing night vision goggles and peeping into his and other peoples' cars. Ko attacks Takuro, who fends him off with an electric shock device and then reveals his face: he's got a very odd, emotionless look to him. Takuro tells Ko that he's just lying to himself--that Ko just "smile[s] and act[s] like a gentleman" when he really wants to have sex with Satomi. He offers Ko his goggles to peep for himself into the other cars on the lover's lane. Ko tries it, but is disgusted with himself and the voyeur, and drives away quickly. But Takuro has gotten Ko's license plate number.
Over the next few days, the voyeur stalks both Ko and Satomi, because he wants to prove to Ko that Ko's trust in Satomi is misplaced. Using a variety of high-tech devices, the voyeur begins pointing out little details about Satomi's behavior and appearance that shake up Ko. Ko becomes obsessed with finding out exactly what Satomi does when she claims to be studying English. And, indeed, he discovers that she is having sex with an American in an attempt to improve her English. Ko is forced to confront both her and his own repressed desires, which date back to an incident in sixth grade.
In the second part of the book, Ko and Takuro have gone into business together as Voyeurs, Inc. Their "business plan" is to identify people who are being spied at and offer their services to catch the voyeur. Their first "client" is a young woman, Izumi. She has been contacted by a man who claims to be calling from the future and who says that she and he are destined for one another. Of course she's skeptical, but he seems to know an awful lot about her, including vacation plans that only a few other people know. Voyeurs, Inc. tries to warn Izumi that her phone is bugged, but she just assumes that the two young men were themselves the ones to bug her phone. The real peep, who lives in an apartment in another building across from hers, decides to fight these two interlopers. Thus starts a little high-tech war between the two sets of voyeurs, complicated by Ko's growing interest in Izumi (who, of course, wants nothing to do with him). The climax comes at a beachside fireworks display, where Izumi has been told by her "lover from the future" that they will meet there. What does the peep want to do to Izumi? Can Ko and Takuro foil his plans?
EVALUATION:
I have to admit, this material is not to my taste. It's not outright pornography--there are only a few sex scenes, actually--but I have a hard time swallowing the notion that a peeping tom is a font of wisdom where sexual repressions are concerned. Takuro is admittedly an interesting, if repulsive, character (he regularly licks the blood when his nose bleeds, for instance, and it seems to bleed whenever he gets aroused), but he's so weird, and his behavior is so scary, that it's hard to understand why anyone would take anything he says seriously. I can see where Ko could be prodded into distrusting Satomi, so that part wasn't outrageous, but would he really go so far as to tie a rope around his waist and lower himself down the side of a tall apartment building just to look into a window? Also, the notion of Takuro as a kind of pure-minded hero in the second story (pure-minded in the "I'm worried about her" sense) is hard to swallow after his behavior in the first story.
A more serious problem for me was the numerous physical impossibilities that cropped up in the story. Early on in the first story, as Ko listens (via a glass against the wall) to a couple having sex in the apartment next door, he's so horny and frustrated that he squeezes the glass until it shatters in his hand--yet his hand is not injured. In the second story, Ko falls off a fifth- or sixth-story balcony; his foot catches on a telephone line, and he is propelled into a leafy tree. He's knocked unconscious, but wakes up the next day without a scratch and immediately starts running around, doing things. (He would later be shown with a few band-aids on his face.) Ko is apparently as invulnerable as the little girl in Baoh, and for even less reason.
But the part that really made me crazy was the confrontation between Ko, Takuro, and Izumi's peeper--one of the stupidest action sequences I've ever seen in any medium. Here's the setup: they're on top of a small cliff that overlooks the fireworks beach and is a popular place for people who want to make out. (If it's so popular, how come they're the only ones up there?) There are some trees on this cliff, but Izumi and the peep are having sex in an open area. It's nighttime in an area open to the sky, with a well-lit beach below, and occasional fireworks going off. In this setting, which is obviously not pitch-black--the characters have shadows, for god's sake--Yamamoto would have us believe that characters without special vision cannot see anything, even when it's literally inches away! This is a crucial part of the story that allows the peep to dance around Ko as if he's invisible, hitting him with a stick, and he's only visible when the fireworks go off. The peep also hides behind an "infrared-ray shield" that makes him so invisible to Takuro's infrared goggles that Takuro apparently looks right through him. Sure. And finally, the peep falls off the cliff (of course), which is at least a hundred feet high if not more; he falls onto one of the vendors' tents, breaking through the canvas and landing on his back on the vendor's goods. Next, we see him standing, perfectly healthy, being handcuffed by some cops. Yeah, right. The whole sequence is just breathtakingly inept.
The art, at least, is decent, with the typical realistic backgrounds of manga and moments of action that are easier to follow than those in a lot of other books. Yamamoto's characters' face are expressive and say a lot about a character's mood or hidden turmoil. But the whole cliffside sequence should have been handled much differently--if it's really that dark, then we shouldn't see practically anything up there, so we know what Ko is dealing with. (And we sure as shootin' should not see shadows!)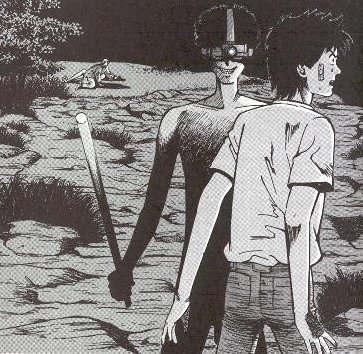 Don't you think Ko would notice something at this range? Especially since there's enough light for Takuro (in the background) to cast a considerable shadow?
Copyright 1999, Hideo Yamamoto/Shogakukan
Although this book has a certain value as a title willing to explore taboo subjects--though simply exploring a taboo topic does not automatically make a book a profound statement about that topic--I can't see too many people wanting to read it.