GENRES:
Gay and lesbian fiction
AUDIENCE:
Adults, older teens; nudity, sexual situations, language
NOTE: The strips in this book were originally published in a variety of publications, notably The Advocate.
SYNOPSIS:
Wendel Trupstock is a young, red-headed gay man, easygoing, slightly naive, dreamy, full of the fires of youth, and always on the lookout for a hot date. He works in the mail room of Effluvia magazine and harbors aspirations of becoming a great novelist. Very quickly he meets Ollie Chalmers, a wannabe actor somewhat older than Wendel who works at the local copy shop. Sparks fly almost immediately, and they are soon an item. The book follows their day-to-day lives through the 1980s as their relationship matures and they deal (mostly humorously) with such issues as gay rights; sex; the rise of the Religious Right; AIDS; laundry; getting used to living together; Ollie's brief past marriage and his son, Farley; Wendel's sputtering writing career; Ollie's sputtering acting career; marching in protests; getting arrested; and all the other events and activities that make up a couple's life.
Of course, there are other characters as well: Sterno, Ollie's childhood buddy, self-promoter extraordinaire and the horniest guy in the US; Deb, his coworker at Effluvia and her girlfriend, the very butch and very outspoken Tina; Farley, a.k.a. "Branman," and his cat, "Clawboy"; Wendel's parents, Myrtle and Vern, former 1960's radicals who completely accept their son and his lifestyle; Newton Blowright, editor of Gayblaze magazine, and his obsession with space pods; Wendel's jolly, eccentric Uncle Luke and his partner of many decades, Clark; Sawyer, Wendel's first boyfriend, who has AIDS and parents who slam the door in his face; and a host of other colorful individuals who make Wendel and Ollie's life interesting.
The book also includes a lengthy essay by Cruse about his experiences with the strip and the events in the 1980s that influenced his pen, and several non-Advocate appearances by Wendel.
EVALUATION:
I quit reading strip comics some time ago because they were getting banal. Having said that, I'm now going to say that if Wendel had been serialized in The Rocky Mountain News, I'd still be grabbing the paper in the morning and turning immediately to the comics section. I can't say enough about how good this strip is. It is marvelously entertaining, relevant (for folks of any sexual orientation), original, revealing, and (best of all) consistently funny. The characters are well-rounded, believable people that you care about. (Sterno is an absolute hoot, and in general this is a terrific bunch of supporting characters.) The physical and mental attraction between Wendel and Ollie is always evident in such a way that you know these two love one another. Situations in the story are exaggerated just enough to make them hilarious, but they never devolve into cheap farce.
Speaking of the situations, there are too many classics to list, but some favorites of mine are:
Wendel's brief dalliance with "Clarence," a closeted celebrity who talks about himself so much that Wendel can't get a word in edgewise;
The day when Sterno takes Ollie to the baths to get away from Ollie's relatives, and the incredible stroke session in the pitch-black orgy room that's rudely interrupted;
The erotic fantasy that's interrupted by the phone, the plumber, and two missionaries from the First Holy Church of the Bellicose Rapture;
The way in which Sterno gets his photographer's job at Gayblaze (it's so convoluted Ollie can't even explain it to Wendel);
The dream sequence in which Smokey the Bear marries Wendel to Ollie;
Luke's attempts to recollect the name of a "nubile Adonis" who greeted him at a concert hall;
Wendel's first meeting with Sawyer, his awkward attempts to talk about AIDS, and their recollection of how they broke up, plus that evening, when Wendel is plagued by personal demons to the point where he ends up sleeping in the comforting arms of Luke and Clark;
The night when Wendel gets locked out of his apartment, nearly naked; he's desperately trying to get back in, because Sterno is debating the Pope on Nightline;
Newton's pathetic attempts to come on to Wendel;
Myrtle's blow-up at Sawyer's parents for turning their backs on their son;
How Ollie's family reacts when he comes out to them;
The touching story Sawyer tells about Otis, a lonely man in Montana who died of AIDS;
The epic "Sterno falls in love" sequence, where Sterno lets his infatuation with his body-builder boyfriend Duncan interfere with his friendships, and how he redeems himself.
As you can see, this ain't Garfield! (Thank God!)
Few cartoonists, strip or otherwise, have the grasp of sequential art that Cruse does. Hell, few have the grasp of anatomy that he has. He has an organic, cartoony, expressive style that incorporates a lot of detail, and his faces are fantastic. He's also one hell of a creative letterer. I've provided a few examples below; you can go see more at his website.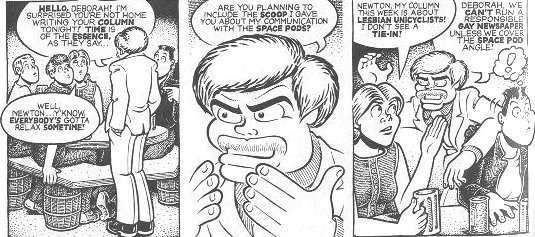 Newton communicates his journalistic priorities to Ollie, Wendel, Deb, and Tina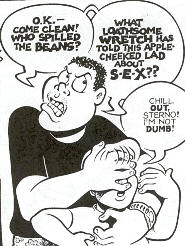 A dual example of Sterno and lettering effects
Copyright 1982-2001, Howard Cruse
Another terrific offering from one of the best cartoonists in the business (see also Stuck Rubber Baby), Wendel All Together is a necessity for comprehensive adult graphic novel collections and those that specialize in gay and lesbian literature. It would also be an important part of a historical collection of comic strips.