GENRES:
Nonfiction
AUDIENCE:
Adults, teens; sex, language, drug use.
SYNOPSIS:
Ted Rall, winner of the Robert F. Kennedy Award for Outstanding Cartoonist in 1995 and a finalist for the Pulitzer in 1996, spent a while collecting stories about the worst things people did in their lives--not the "dumb-worst" things like dropping a hair dryer into the bathtub, but the "bad-worst" things, like robbery, drug use, animal abuse, and even murder. The stories range from a single page to ten pages in length. Sample stories:
"Felicide," in which a man tries to kill a cat because it leaves dead animals on his car seat.
"Mausoleum," where a group of boys stuff another boy into a mausoleum drawer and leave him overnight.
"Credit Card," about a college student who stole money from his parents' credit card and vanished, leaving them to unknowingly pay the rent on his now-abandoned apartment.
"Leona's Silence," where Leona can't bring herself to tell a woman that the man she's sleeping with has AIDS.
"Buchenwald," a memory of a Japanese-American soldier during World War II who helped liberate Buchenwald, but who could not bring himself to shoot a former prisoner when she begged him to.
"Commission," where a woman has to have her mother forcibly committed to a home.
The book includes a substantial introduction by Rall that details why he chose to create this book and the effort he put into finding stories for it. Basically, "What's the worst thing you've ever done?" is his standard icebreaker question. Also, the project was inspired by a book called Sabotage in the American Workplace by Martin Sprouse (Pressure Drop/AK Press, 1992), which contains anecdotes of workplace revenge. Rall considers his book "a snapshot of contemporary American morality."
EVALUATION:
By turns funny, unpleasant, and pathetic depending on your point of view (the animal abuse ones really bothered me), these stories are interesting in a voyeuristic way. The book is sort of like Ripley's Believe It or Not merged with the Jerry Springer show. As you might guess, this is the kind of material that reads better in small doses than in one whole book; reading about so much nastiness all at once is a little unsettling, and also, the accounts get repetitious after a while.
Rall's illustrations are fairly low-key given the situations; his odd-eyed, cartoony style takes the sting out of some of the incidents. I love his lettering!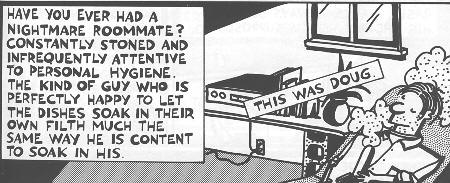 A typical Rall panel: about half text and half picture.
Copyright 1996, Ted Rall
This book would be of interest to people who are fascinated by the bad behavior of ordinary people.